OUT NOW.
… when there is no more free space for art – but emptiness. What happens then?
2020 and 2021 was Lockdown – it was quiet. Quiet like it had never been before.
"Patience", "Being There", "Empty and Self", "What Remains", "Peace", "Soul Food" and "Lifted" have been created in a series that takes up and embraces exactly this feeling. How essential it is to feel accepted. Just by being there. Just being there.
The "Silversoft Monochromes" were created in 2020 – they capture the light in a gentle way and allow a very specific light harmony to vibrate – a delicacy and clarity that is soothing and, as it were, natural. 
Guest artist in my studio was the Argentinian instrument maker, guitar player and singer Vicente Tolaba.
His instruments, individually and intricately crafted with total dedication, are masterpieces of craftsmanship. A special sensuality in design and sound comes to life in these wonderful instruments through his fine intuition and precision.
His concert was a musical delight and a wonderful end to the intense conversations with many visitors in the studio.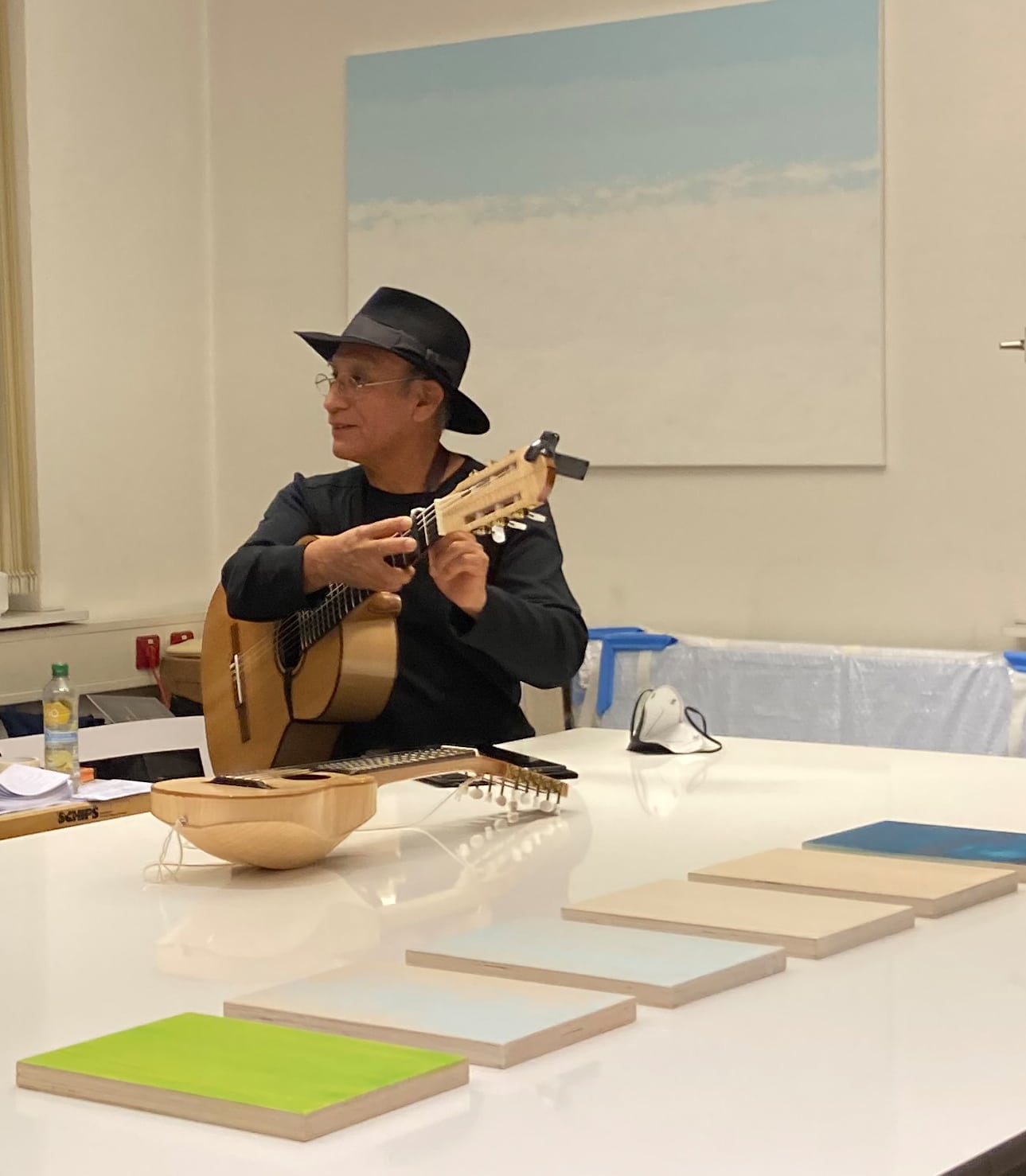 Rest and development for the soul
Silence – surrounded by speed and information.
Sit and look – the picture wants nothing from you…. no symbolism, it is simply there. Just as it is. It does you good, it invites you to linger and sit.
… and to breathe – it frees the thoughts, gives space to let oneself in, to feel oneself. To be with oneself – in a time of change, of glaring images, between consumption and events, in excitement and in evaluation and opinion.
Sensibility and tenderness … Perceive and let it work.
Feel.
Being there.
Freedom and truthfulness are life streams of creativity and development.
.
A pause … being there… in life.

Finesse in a harsh environment…. It reminds to see lovingly and rejoice in the sun, in the life energy that radiates warmth and vibrancy.
To be there and pause…. and listen to the inner voice.